This season of life is a crazy one for us, so I'm behind on blogging! Again. I did manage to sit down with my oldest for our annual birthday interview tradition. It feels even more surreal that he is eight years old this year. Especially when his baby sister looks exactly like him as a baby. It often feels like I traveled back in time when I look at her.
I love doing these birthday interviews with my kids. It's funny how not much changes from year to year. My oldest has a very caring and sensitive personality. His answers are always a subtle and nice reminder of his fierce love for his family and friends. He's kind, loyal and often so innocent it hurts. To say that he is smitten with his sister is the understatement of the year. He is completely crazy in love with her. His relationship with his brother has the same protective streak, but it's much louder and much more rough and tumble. I love watching them all play together (as much as a baby can play with them).
Our interview now has an additional question to include the baby (who got left out of the birthday card that I signed for the family and was pointed out by my 8-year-old #thirdchild):
Favorite color: Green
Favorite toy: LEGO
Favorite thing about his brother: "He's the best."
Favorite thing about his sister: She's really cute
Favorite TV show or movie: Phineas and Ferb; Wild Kratts
Favorite food: Sushi, pizza
Favorite outfit: Short pants and short-sleeved shirts
Favorite sport: Soccer and baseball
Place he wants to visit for vacation: Germany
Favorite animal: Dog
Favorite song: "I don't have one."
Favorite book: Magic Tree House
Best friend: My brother and Aaron
Favorite cereal: Fruit Loops [clearly, a remnant of the no-rules vacation food]
Favorite drink: Shirley Temple [another vacation reminder, ha!]
Favorite thing to do with friends: Play tag
What his father does at work: "He's a contractor or something."
Something he's really good at: Soccer
Favorite ice cream flavor: A mix
Biggest hero: My family
What he wants to be when he grows up: A worker man [still a construction worker, a trend since age 2, I think]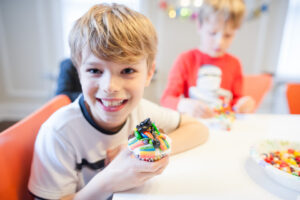 Happy 8th birthday to my big boy! What a caring older brother he is to his brother and sister, and we are so lucky to be his parents.