I actually started this post about a month ago… It was so hard to figure out where to begin with Ellen's birth story! Her birth was a long one for me… But, ultimately, my easiest delivery, because she spared me the agonizing back labor that her brothers put me through! Her labor was different from start to finish, because I had prodromal labor with her.
Prodromal labor is unbelievably exhausting, both physically and mentally. It started shortly after trick or treating on Halloween, and I labored like this for 10 days… Contractions came regularly around the clock. I was miserable and had more than one break down during this time. My midwives asked me to come to the hospital on two different evenings since contractions were regular and long. Plus, I was GBS positive with this pregnancy and the third baby is usually a wild card. Of course, each time we went back home, which was a small relief. We were hoping that our younger son wouldn't have to share his birthday with the new baby.
After a week of painful contractions, stress and seeing the toll it was taking on me, my body and my family, I asked for a gentle induction to start at 40weeks 4days. I felt like my body needed a little nudge to help get this baby out. The baby was sitting high and had no interest in moving into the birth canal.
My midwife started cervidil at 11pm on November 10. Cervidil doesn't usually put women into labor, it softens the cervix. My body, however, was very ready. It responded by 7am with much stronger contractions and my water breaking! Labor was finally progressing. I was excited and relieved, because I felt like I had made the right decision for my body and my baby. I was ready to meet this baby and have it share my sweet grandmother's birthday!
My doula, Odile, arrived around 9am and started guiding and supporting my husband and I through the contractions. Odile supported us during my younger son's birth, and I'm thrilled that she joined us again for this baby's arrival. We also started using our rented TENS unit to help manage the pain of some back labor while baby moved into a better position. The TENS unit was a great way to alleviate my back pain, and I wish I'd had it for my first two labors!! It was super easy to use.
Around 2pm, I reached a point of complete physical exhaustion and asked for an epidural. I had been walking the halls, squatting on the birth ball, swaying. I was so tired and wanted to sleep so badly. I'd entered this part of labor already worn out from 10 days of contracting and thought my body needed to rest to continue making progress. A cervical check showed I was only 4cm dilated, and the baby was still sitting high. I also thought an epidural would actually help this time, since the baby had shifted and my back pain had completely disappeared.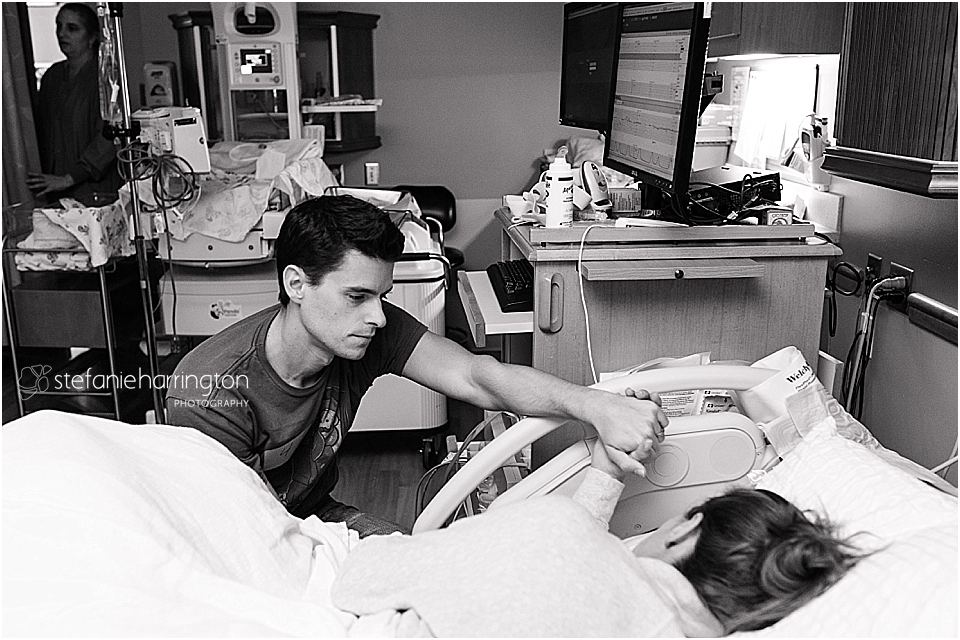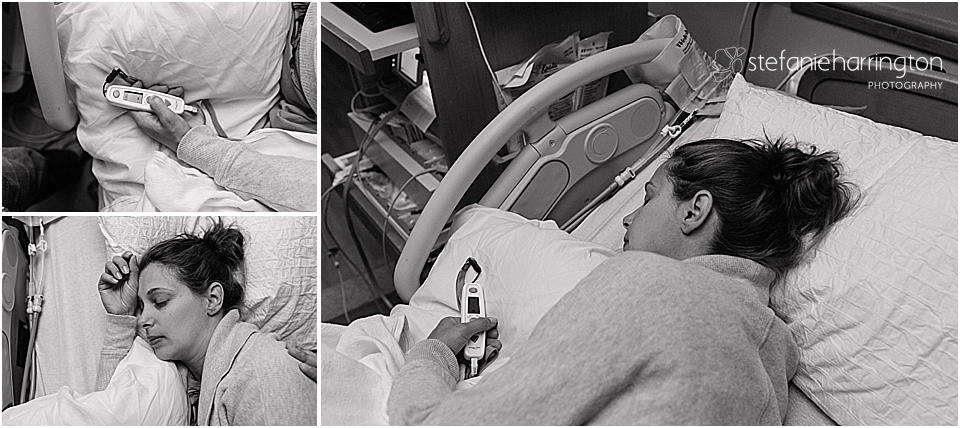 After two unmedicated births, this was my first labor with an epidural. For the next 2 hours, I napped for 30-45 minutes at time before Odile asked me to switch positions. My next check showed that I was 8cm dilated, and the baby had started its descent within those 2 hours. YES!!
Of course, the delivery was still several hours away, but my body was making progress! The epidural kept me relaxed, but I felt the pressure of every contractions. Eventually, I felt an urge to push and started very gently pushing the baby down. The nurse saw on the monitor that I was pushing, and when they checked they could see the baby! Ha, I didn't want to tell anyone that I was pushing yet :) Cue the happy and emotional tears from me. Baby time!!!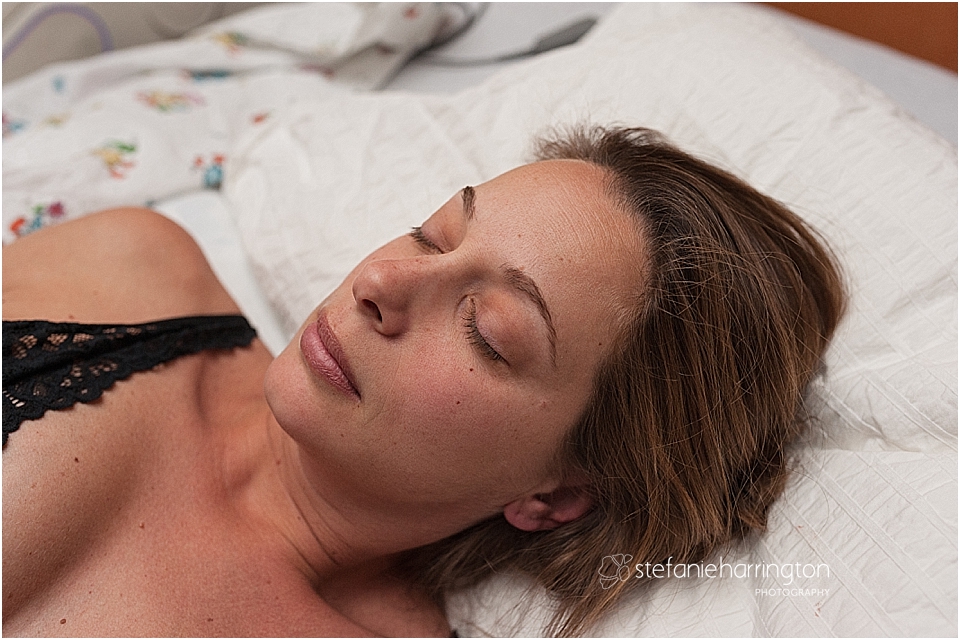 My entire delivery and support team was AWESOME. They set the room's mood to how I wanted it, and the staff (and me!) were singing along while to my birth play list while I was pushing. The room and the delivery felt so joyful! I didn't have the same anxious feeling of desperately wanting the baby out to stop the back pain. I was able to take in each moment and gently welcome my baby into the world.
Like my younger son, Ellen's cord was wrapped tightly around her neck when she appeared. The midwife assured me that I could get her out with one push, and then she quickly untangled the cord to lay her on my belly. I felt overwhelmed with emotion and couldn't stop smiling! I'm so thankful that Odile snapped some photos with her phone. And my husband somehow managed to take photos with my camera.
This time, I got to experience my version of a beautiful birth. Everything was so different with this birth, and the epidural helped me enjoy it. I felt like myself almost immediately after giving birth. Aside from missing my boys and my husband going back and forth, my 2-day hospital stay was easy and enjoyable. I had no recovery issues other than being tired. I spent my time snuggling my new baby, napping when I could and enjoying visits from dear friends. The nurses at Shady Grove Hospital are amazing, and I can't say enough good things about them. All three of our children were born there, and each time the nurses and staff took such wonderful care of us. With each of my deliveries, I was able to have exactly the type of birth experiences that I requested.
I could not have handled the last couple of weeks of Ellen's pregnancy without the no-questions-asked support of many dear friends, family, client friends and my doula. They helped with things from child care to emotional support to encouragement to labor support. I'm beyond thankful for every big and small gesture!!
Ellen's pregnancy, labor and delivery added so many new layers to my own birth knowledge and experiences. I've had an unmedicated birth with pitocin, an unmedicated birth and a medicated birth. I've had the agony of back labor twice and the uncertainty of prodromal labor. The prodromal labor taught me a lot about patience and listening closely to your body and intuition. I'm always happy to chat if you want to know more details! And despite being a passionate birth photographer, I made the decision not to have a photographer present based on my feelings and anxiety from my previous births and from Ellen's pregnancy, and it was absolutely the right decision for me. Birth is such an emotional and personal experience.
The past two months with Ellen have flown by. I (almost) wish I could rewind the clock to the moment she arrived. My pregnancy memories have started to fade as I enjoy holding and getting to know her. Her brothers are over the moon in love with her and cannot get enough kisses onto her little head. And given their age difference, they're actually helpful to me, especially when my husband is traveling. I'm holding on to her birth memories and love listening to her birth play list with her.
Life is good.