You may or may not have been wondering what the heck happened to my blog circle. I'll be honest. Last year got so crazy busy that it was hard to keep up with the circle, but I'm determined to stick with it this year. At least, most of the time ;) And this year's blog circle is going to focus on and explore some photography concepts so that should keep it pretty interesting around here.
First up is short lighting. In case you don't know, short lighting basically means that the face is turned toward the light source so that the shadows are falling on the side of the face that's closest to the camera. It's generally flattering for portraits, because it has a sculpting aspect. I'll admit that I completely ran out of time to create new images for this month's topic. This winter is just crazy busy in between some ridiculous sickness. Happily, I was able to find some examples in my lifestyle newborn work that show how short lighting works. When going through my files, I noticed that I seem to use it quite a lot for my new moms when I'm working in their homes, but I only pulled a couple of images that are pretty good examples of short lighting. See how the light is coming from camera left, which happens to be a window in both images, and the left side of their face is shadowed?
Goal for next month: Plan ahead and don't procrastinate :)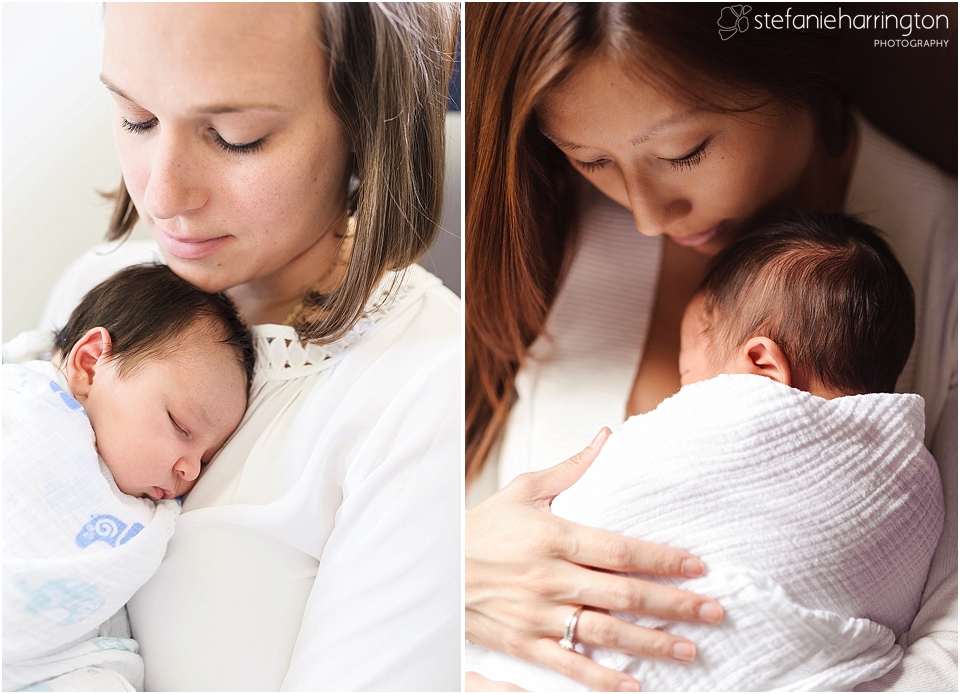 Up next is my lovely friend Camille from all the way in the Philippines. Hop over to her blog to see her examples of short lighting!
Stefanie Harrington is a DC Nova Newborn Photographer. Contact Stefanie Harrington Photography for more information about newborn photo sessions. She is available for Birth Newborn Maternity and Family Photography and travels for clients.